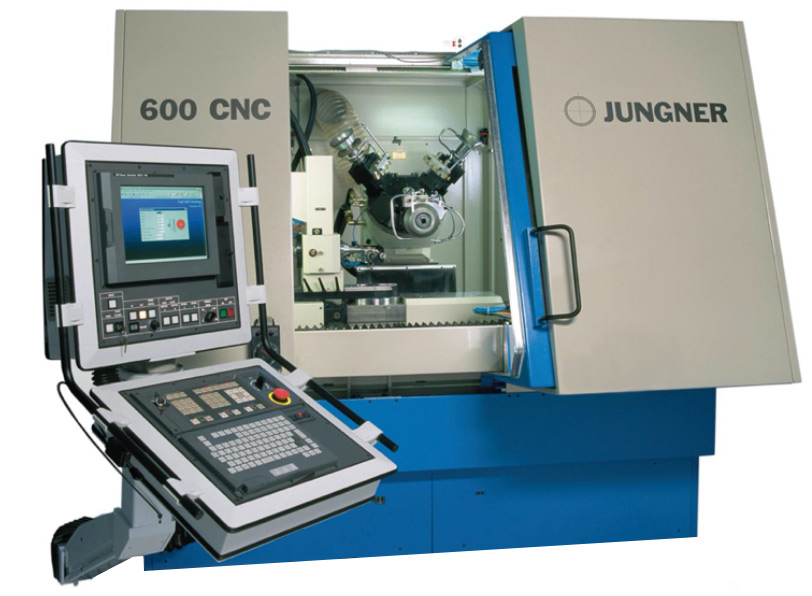 TG 600 CNC
Tool and Cutter Grinding Machine
Product information
With its high flexibility, rigid design and high spindle power the TG 600 CNC is the perfect machine for heavy production and resharpening of cutting tools etc. Due to the turret design with up to 6 grinding spindles that can carry up to 4 grinding wheels on each it can grind complex tool geometries in one setup.
The TG 600 CNC can be equipped with an automated robot loading system for increased productivity.
Technical specification  TG 600 CNC
Axis

Stroke

Resolution

 Rapid traverse

Pos. Accuracy

X
600 mm
1.2 

µm

Y
300 mm

15 m/sec

1.2 

µm

Z
300 mm

15 m/sec

1.2 

µm

B
∞
± 1.8 "
C
± 135 °
± 1.8 "
All axis equipped with external encoders from Heidenhain.
Workhead, B-axis
Clamping interface                               ISO-50
Indexing accuracy                                 ±1.8"
Cylindrical grinding                              600 rpm
Maximum torque                                  85 Nm
Maximum tool diameter                      ⌀300 mm
Maximum 500 length                           500 mm
CNC Control
Fanuc 30iMB
Grinding spindle
No. of spindles                                      3
(Optional up to 6 spindles)
Max wheels on each spindle               3
Spindle indexing time                          < 3 s
Spindle speed                                        0-12000 rpm
Spindle power                                        11-18.5 kW
Max grinding wheel diameter              300 mm
Dressing unit
Dresser speed                                        4000 rpm
Maximum dresser wheel                      ⌀150 mm